Speakers

HM #: M - 409 E Nelson Ave., Alexandria, VA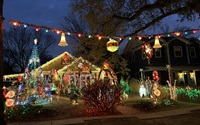 HM #: S - 2404 Phillips Dr, Alexandria, VA

101.5FM

HM #: FF - 8505 Forest Rd, Annandale, VA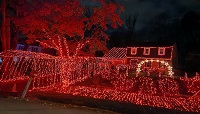 HM #: R - 4106 Gallows Road, Annandale, VA

HM #: MM - 3711 Merrimac Trail, Annandale, VA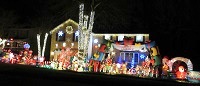 HM #: LL - 1813 S Oakland St, Arlington, VA
HM #: A - 5838 Fitzhugh St, Burke, VA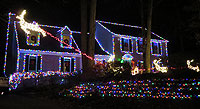 98.1FM & S

HM #: Y - 14549B Lock Drive, Centreville, VA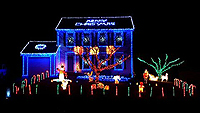 98.1FM

HM #: BB - 13530 Point Pleasant Drive, Chantilly, VA
HM #: L - 3801 Center Way, Fairfax, VA
HM #: XX - 7431 Camp Alger Ave, Falls Church, VA

Speakers

HM #: JJ - 7725 Fisher Drive, Falls Church, VA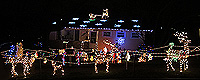 97.7FM

HM #: EE - 13601 Brass Harness Ct, Herndon, VA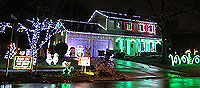 HM #: NN - 11904 Paradise Lane, Herndon, VA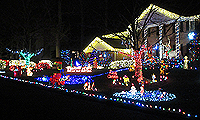 Speakers

HM #: C - 13271 Stone Heather Dr, Herndon, VA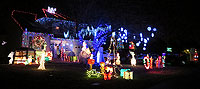 93.5FM

HM #: JJ - 1201 Balls Hill RD, McLean, VA
HM #: RR - 5536 Belfast Place, Springfield, VA

98.1FM

HM #: WW - 5633 Inverchapel Rd, Springfield, VA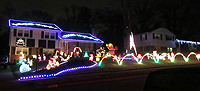 HM #: G - 1801 Beulah Road, Vienna, VA

HM #: WW - 922 Cottage St SW, Vienna, VA
HM #: D - 10000 Garrett St, Vienna, VA

HM #: K - 118 James Drive SW, Vienna, VA

HM #: V - 317 Patrick SW, Vienna, VA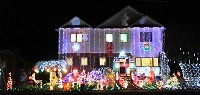 87.9FM

HM #: YY - 14905 Cardinal Dr, Woodbridge, VA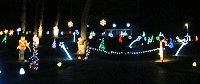 Speakers

HM #: CC - 12407 Harbor Dr , Woodbridge, VA


Speakers

HM #: DD - 12635 Harbor Dr, Woodbridge, VA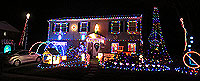 Displays I Have YET TO VISIT
2528 Drexel St., Vienna
Pixel based light show animated to music, broadcast and speakers for foot visitors, 28min looping show.
Show runs Sun-Thur 5-10pm and Fri-Sat 5-10:30pm.
www.facebook.com/NiFamilyLights
10625 Green Dr. , Lorton
Holly says "Whoville does not show up well at night. It's just another over-flashing light show". Check it out before dark to see the unique wooden Whoville pieces.
Whoville Light Show has a 24' tall Mt. Crumpit and a real grinch sled on the roof. 12' tall Welcome to Whoville sign from the movie and tons of characters around the 28' Whoville Tree. Tune into 100.5 fm for all the latest music sequenced to the lights!
6153 Shiplett Blvd, Burke
Corner display decorated on both sides. Very close to #3 - 6410 Glenbard Rd., Burke, VA.
8400 Idylwood Rd, Vienna
Large inflatable reclining snowman resting in front of an arch, marks the corner of a yard with various blowmolds and inflatables. Lights outline the roof and the fence.
---
Anyone visiting the above, please email me your opinion...

If you see a comparable Fairfax County Christmas Light display that you think should be considered for inclusion on this site, Please email me at hollyween@hotmail.com with the address and a description so I can check it out.
It is through interested parties of the Fairfax County community that the information on this site is kept current.

Thank you for helping to keep this site alive...Holly
---
Tacky Businesses
5800 Kingstowne Center Drive, Alexandria
The Sunoco Gas Station at Kingstowne Center has a 3 story blue light tree, real trees wrapped in red and green lights, the station outlined in red and green lights with Santa and a team of reindeer on the roof. Very Tacky! I love it! Photos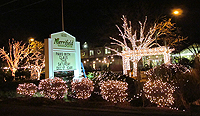 12101 Lee Hwy, Fairfax
Merrifield Garden Center in Fair Oak/Fairfax is a vision in white.
You have Got to tour their Christmas Shop when open.
https://www.merrifieldgardencenter.com/ Photos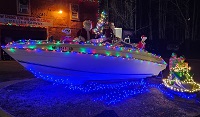 12815 Lee Hwy, Fairfax
Willow Spring Towing & Recovery's Fairfax location on Rt 29 does a hilarious light display that is different each year. You've got to see it to believe it... Photos

87.9FM
8334 Old Keene Mill Road, Springfield
Located at the corner of Rolling Rd and Old Keene Mill Road, this Shell service station has a variety of decorations and has actually programmed them to music. The display is so big, it has become a local landmark. A huge Santa, Snowman and several light tree are on the roof,while the station and service bays are outlined with lights. A plethora of decorations are sprinkled around the station among the fountains, including more inflatables, blowmolds and lights on the trees. Music can be heard on the station speakers or on the radio on 100.7FM. Visit their website at http://www.cardinalplazashell.com/. Photos