Click on PHOTO for more info, pics (opens in separate window)
6512 Hanover Heights Trail, Clifton - Last appeared: 2011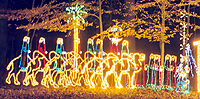 3912 Lincolnshire Street, Annandale - Last appeared: 2010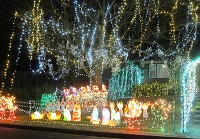 6520 33rd Street, Falls Church - Last appeared: 2009

5407 Francy Adams Court, Fairfax - Last appeared: 2009

12708 Kettering Dr. , Herndon - Last appeared: 2009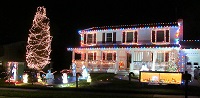 5509 Sequoia Farms Drive, Centreville - Last appeared: 2008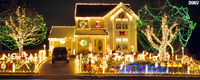 9117 Anderson Lane, Fort Belvoir - Last appeared: 2007

9419 Braymore Circle, Fairfax Station - Last appeared: 2007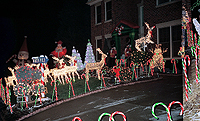 3608 Old Post Road, Fairfax - Last appeared: 2006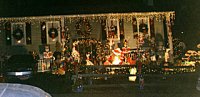 Corner of Dassett Court & Americana Drive, Annandale - Last appeared: 2005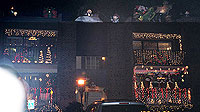 Pimmit Road - Last appeared 2003
This is the display that started my Tacky Christmas Lights journey...
Each item in the yard was a home-made, painted wooden character or scene. Many were animated.
As the years went by he continue to add new items every year. Display ceased when homeowner fell off roof putting up the helicopter. Still puts up some stuff, mostly inflatables (and that damned helicopter). Now resides on Honorable Mentions list (#W).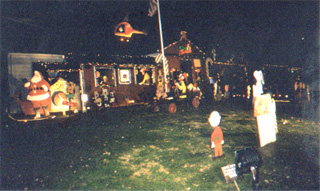 Hi-Tech Transmissions, 8633 Lee Hwy, Fairfax - Last appeared 2004


This business has been putting lighted figures on their roof for years but, discontinued in 2004.
They also have multicolored lights on a big pine tree
The definition of tacky...I love it!!.
Lincolnshire, Annandale
3917 (right) last appeared 2004. 3912 (left) last appeared 2008.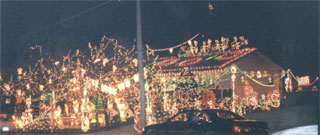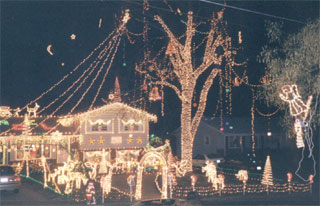 Another of my favorites...
Two houses directly across the street from each other try to outdo each other,
one with lights and the other with lighted figures...What a Sight!!
Always makes me happy to see these.
2003: Featured in Peter Carlson's Washington Post article