Map No:
41
Address:
10800 Stanhope Pl, Fairfax, VA 22032
Description:
Nearly the entire block is lit up - Too bright not to be on the list! 9 houses, 10710-10807, are lit and it's something to see. One of the displays is blinking to music. Another has a string of multicolored lights spread across the trees of his neighbors. Similar to Juniper Ln, Sterling, in the old days. It's really something when a group of neighbors go all out.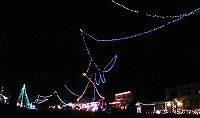 PLEASE STAY OUT OF THE DISPLAY/YARD !!!!