Map No:
8
Address:
4802 Red Hill Way, Ellicott City, MD 0
Description:
A blinking mess of lights that you must see. They even have arrows on the street corner saying "This Way Santa". The house is stripped in white lights which change to red. There is a giant heart and Earth on the roof. Has a lighted archway over the sidewalk you can walk through. Sprinkled throughout the yard are red and white striped poles with outer space themed blinking tops. They have a lit red crab and UofMD, Raven and Orioles lit signs. All is blinking to music but there is no correlation. A feast for the eyes! Tacky to the Max!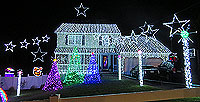 PLEASE STAY OUT OF THE DISPLAY/YARD !!!!