Map No:
51
Address:
8700 Nanlee Dr, Springfield, VA 22152
Description:
Small but very unique! Two G gauge trains out/running every night, weather permitting. There is a ferris wheel, swing, and gingerbread village, all homemade, surrounded by small figures and blow-ups and lights.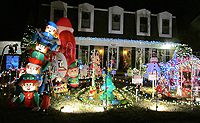 PLEASE STAY OUT OF THE DISPLAY/YARD !!!!