Map No:
1
Address:
3710 42nd Ave., Cottage City, MD 20722
Description:
And if you happen to be in the Bladensburg area of Maryland, I highly recommend this one. Looks like a gingerbread house with red and green stripes of light covering the house and two giant candy cane mark the lot corners.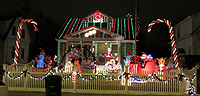 PLEASE STAY OUT OF THE DISPLAY/YARD !!!!