Map No:
6
Address:
10203 Lawyers Road, Vienna, VA 22181
Description:
Lit Nov. 26 thru Jan 6, 2018, dusk to 11pm.
On Lawyers, directly across from Galloping Way. Hidden behind trees on road.
Adding new lit wire-frames every year (mostly animals). Very beautiful layers of blueish multicolored lights. Large decorated tree with groupings of animal figures in gated courtyard in front of house and around circle driveway. They have a zoo of lighted figures. Love the cactus tree in santa hat and the animated dinosaurs along the driveway.
Must be a great site looking down from 2nd floor windows. Park on Galloping Way and carefully cross Lawyers to view.
Photos do not show true volume of lights. Unless they are LEDs, blue lights just don't photograph well.
Owner provided...
Hours/Times/Days:
Nov. 26/27 - Jan. 6/8, 5:15-11:30p
URL/Santa?:
Specifications:
Rain may disrupt some of the lights.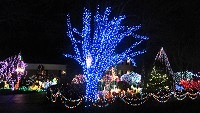 PLEASE STAY OUT OF THE DISPLAY/YARD !!!!