Map No:
18
Address:
9804 Kirktree Court, Fairfax, VA 22032
Description:
Dec. 1-31, 5-10p, 11p on weekends. Off for rain, winds>15mph.
Well-lit gingerbread house with lots of colorful and unusual things in yard and on house. They have packed their small yard with stuff. BTW: they seem to be big fans of the Grinch. For 2009-big fans of Snoopy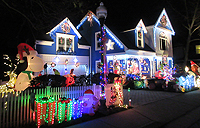 PLEASE STAY OUT OF THE DISPLAY/YARD !!!!