Map No:
12
Address:
3912 Lincolnshire Street, Annandale, VA 22003
Description:
On Dec. 1 thru Jan 1, 2018. 4:45pm - 10pm weekdays, til 10:30pm. OFF for wet/humid conditions.
12.26.17: Spoke with owners. He said he only has a couple of years left in him for doing the display. He's had 8 surgeries in 5 years and isn't getting any younger. See this remarkable display before it ends.
This is one of my all-time favorites... Changing color lights and lighted figures cover every square inch of the yard, trees, driveway backed by music with some animation. Backyard also decorated. I adore the Santa and animated reindeer on the roof. On 4:15-10pm daily. Now broadcasting on 88.3FM. Giant star high in backyard is visible from Gallows, between houses.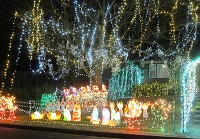 PLEASE STAY OUT OF THE DISPLAY/YARD !!!!