Map No:
25
Address:
8209 Lorton Road, Lorton, VA 22079
Description:
Lights on 5-10:30p thru Jan. 6
Bigger and brighter every year! Large display of unique lighted wire-frames, many animated, with new additions yearly. The yard is getting quite crowded with lights. (Love it!)
House has white icicle lights lining roof and lighted wreaths with red ribbons on each window. Snowflakes dance above in the tree. Soldiers and trees line the front fence. Holly berries/leaves and poinsettias hang on side fences and bushes are covered with multicolored lights. Three light trees near house are animated to music.
Hard to see everything from road because yard is below street level. Park and get out to see best. Be cautious of fast moving traffic on Lorton Rd. Stay out of the yard, please!
Owner provided...
Hours/Times/Days:
Thanksgiving-Jan 6
URL/Santa?:
Specifications:
New animated scenes yearly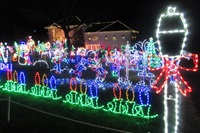 PLEASE STAY OUT OF THE DISPLAY/YARD !!!!