Map No:
19
Address:
6226 Stonehunt Place, Clifton, VA 20124
Description:
DARK FOR 2017
A mass of multicolored lights. These lights took my breath away. These photos don't begin to show the true volume of lights, it's blinding!! I've never seen so many light strings going in so many directions. Reminds me of a spider web. You've got to see this to believe it.
PLEASE STAY OUT OF THE YARD! Too many wires laying around!
Please respect my neighbors and don't block their driveways.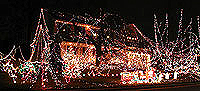 PLEASE STAY OUT OF THE DISPLAY/YARD !!!!