Map No:
13
Address:
2507 Fairview Drive, Alexandria, VA 22306
Description:
On 12/16 thru 1/1/17.
Another of my top five favorites... You'll see the glow through the trees as you approach. Decorations everywhere - yard, roof, trees, porch. Overdone to the MAX!!! Driveway is lined with inflatable figures. How many can you name? The roof is covered with lighted figures and inflatables, and there is still lots of lights. Love the vintage Three Stooges on the porch steps and the light wrapped trees. Oldest piece is the Santa and Reindeer between house and tree (20+ years).
2013 - Son, who was on Gage, has moved into family house.
2008-On 12/14. Look for new setup/photo op on porch and the path will be back (Please stay out until complete). At least 8 new inflatables in yard. Even with nothing on roof, it's still over the top...
2007-Path back! There are 69 1/2 inflatables. On the porch are 80 animated toys. New count-down clock added this year.
12/16/07-Met other Son of Fairview. Such great people!
2006 - added path for walking through yard and on porch...
12/21/04 - Met Mr. & Mrs. Fairview Drive and son. A real pleasure! He's been doing this for over 35 years!
Owner provided...
Hours/Times/Days:
URL/Santa?:
Specifications: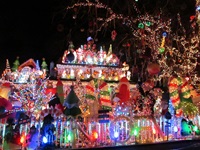 PLEASE STAY OUT OF THE DISPLAY/YARD !!!!