Map No:
13
Address:
2507 Fairview Drive, Alexandria, VA 22306
Description:
On 12/12 thru 1/1/17, 5-10pm, Off for wind/rain.
Another of my top five favorites... You'll see the glow through the trees as you approach. Decorations everywhere - yard, roof, trees, porch. Overdone to the MAX!!! Owner says "Please safely park and walk the DRIVEWAY, PATH and PORCH!"
Driveway is lined with inflatable figures. How many can you name? The roof is covered with lighted figures and inflatables, and there is still lots of lights. Love the vintage Three Stooges on the porch steps and the light wrapped trees. Oldest piece is the Santa and Reindeer between house and tree (20+ years).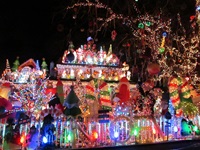 PLEASE STAY OUT OF THE DISPLAY/YARD !!!!