Holly's Tacky Christmas Lights in Fairfax County, Northern Virginia
ONLY PRINT WHAT'S ON

Use Browser BACK Button to Return to Tacky Lights
---
PLEASE STAY OUT OF THE DISPLAYS/YARDS !!!!

#14. 1601 Collingwood Road, Alexandria

88.1FM - On thru Jan 6, dusk to 10:30pm. My favorite. Handmade wireframes sprinkles throughout a sloping yard and lights everywhere. All expertly animated to music.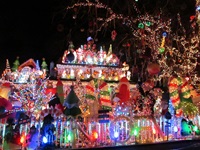 #13. 2507 Fairview Drive, Alexandria - On 12/12 thru 1/1/17, 5=1-pm. It glows through the trees on approach. Lights, blowmolds and more inflatables then you've ever seen cover the entire lot.



#47. 6412 Joyce Road, Alexandria - On Dec. 8-31, 2017, dusk - 10p weekdays, 11p weekends.
A most unique multicolored collection of inflatable items. Must see!



#10. 6634 South Kings Highway, Alexandria - Well know display with light display modified yearly. Has small kid's train.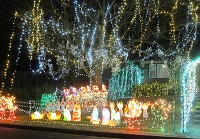 #12. 3912 Lincolnshire Street, Annandale

FM & Speak - On Dec. 1 thru Jan 1, 2018. Music blares and lights flash at the overdone display. On 4:15-10pm daily.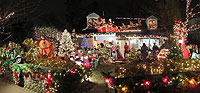 #39. 1610 N Abingdon St, Arlington - Small colorful house with old fashioned decorations. Working train on porch.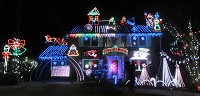 #57. 523 S Harrison St, Arlington - Lights cover every square inch of this small house and yard. Animated wire-frames on the roofs and ground.


#8. 1713 N Quebec Street, Arlington - Vintage objects are displayed everywhere at this Arlington home. Always a large star and Santa and team hanging up high. Santa's staged differently every year.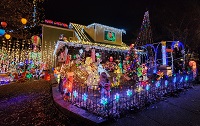 #60. 1629 S Quincey, Arlington -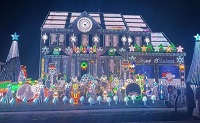 #58. 21260 Rosetta Place, Ashburn - On Dusk to Midnight thru Jan. 15, 2017. Son of #36 now decorating his own home in Ashburn.


#3. 6410 Glenbard Rd., Burke

88.3FM - On Dec. 10-Jan 8. Very well thought-out Animated Light Show with great music.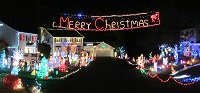 #59. 10108 Marshall Pond Rd, Burke - On Nov. 27 thru Jan. 7, 2018. 5:30-10:30pm. Lights always On. An entire pipestem, called Santa's Village, lights up.



#17. 5700 Claret Place, Centreville

105.7FM - On 4:30-11:30p, animated light show 6-10p. Lit blowmold soldiers encircle this yard of vintage decorations and lights. Lights on everything! Runs an animated light show nightly.



#27. 13614 Weinstein Court, Centreville

98.1FM - Multicolored animated light show with some grouping of lighted figures and mini trees. Lights outline the house, windows.



#55. 42460 Flemming Dr, Chantilly - An inflatable wonderland in Loudoun County.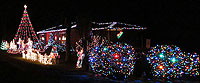 #24. 11610 Henderson Road, Clifton - Dec 4 to Jan 5, 5:30-11pm. Layers of multi-colored lights and wireframe figures slow traffic on Henderson Rd.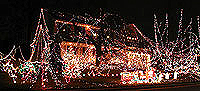 #19. 6226 Stonehunt Place, Clifton - DARK FOR 2017. Another of Holly's favorites - multicolored blinking lights go out in every directions. So bright!


#29. 4501 Evansdale Road, Dale City - A corner house with decorations on both sides. On nightly from 5-10pm.


#4. 3622 Chain Bridge Road, Fairfax - Lots of white lights and some multicolored, too. Inflatable Santa on Motorcycle on porch roof, large candy cane entrance markers, giant NOEL with Frosty, some deer and light trees.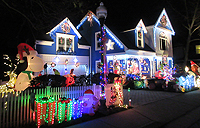 #18. 9804 Kirktree Court, Fairfax - The gingerbread house - tiny yard, jam-packed with animated inflatables, lights.


#26. 9806 Sharon Court, Fairfax - On 12/3 to 1/6, 5-10:30p. Multicolored lights outline entire house with various inflatables and blowmolds in the yard.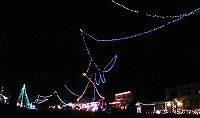 #41. 10800 Stanhope Pl, Fairfax - Nearly the entire block is lit up! 10710-10807 are lit and it's something to see.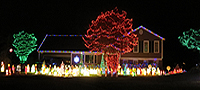 #9. 10510 Clipper Drive, Fairfax Station

Speakers - A light dancing multicolored light show and a yard with over 200 blowmolds.



#16. 10715 Shadow Lane, Fairfax Station - Huge horse ranch decorated with white lights spread over several acres. Two large white light trees.



#48. 510 East Broad Street, Falls Church - A huge collection of unique, homemade sculptures.



#42. 6524 Roosevelt St, Falls Church - A very pretty white display covers this corner lot.



#43. 11920 Bennett Road, Herndon - A toy store lit up among/in the trees. Very unique.


#53. 1826 Woods Edge Dr NE, Leesburg - Edwards Landing Lights On 12/12 - 12/25.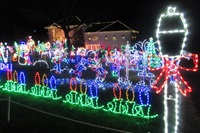 #25. 8209 Lorton Road, Lorton

Speakers - The most unique collection of lit-up wire-frames and it keeps growing and getting brighter every year.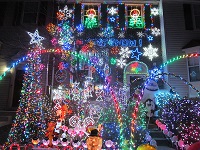 #56. 7302 Rhondda Drive, Lorton - On thru Jan 8, 2018. Making use of every square inch of yard and wall is this very bright townhouse display.


#36. 7815 Birnam Wood Dr, McLean - On Dec. 2 - Jan. 2. A glowing, multicolored striped house with some unique inflatables.


#62. 6530 Heather Brook Ct, McLean

93.5FM - Nov. 25 - Jan 1, 5p-12a. Light show with lots of lights, inflatables large and small.


#21. 11303 Stones Throw Drive, Reston

Speakers - LAST YEAR FOR THIS DISPLAY!
Hugh sloping corner yard and home exquisitely decorated in bright white lights.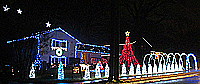 #35. 5406 Fremont St, Springfield

107.9FM - On Dec. 9 thru Jan. 1, 5:30-10p wkdays, 5:30-11p Fri.-Sat An offbeat 20 minute light show with some unique characters. You gotta see this!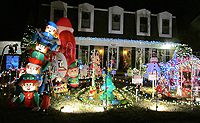 #51. 8700 Nanlee Dr, Springfield - G-gauge trains, a ferris wheel, swing, gingerbread village, blow-ups, lights and more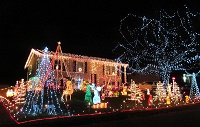 #61. 506 N Alder, Sterling - Chasing lights cover the roof, house, yard, trees.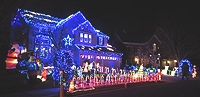 #20. 47807 Blockhouse Point Place, Sterling

98.1FM - Animated light show Dec. 8 - Jan 7. Lights on 5pm-11pm.



#15. E. Juniper Avenue, Sterling - Neighborhood Light show with a whole street and some side streets getting in the act.



#44. 21244 Millwood Square, Sterling - On 12/18 - 1/6, dusk to dawn. The first townhouse to make the list. Never has so much been done in so small a space.


#50. 111 W Church Rd , Sterling - Love the sleigh with Snoopy as Santa and pigs, dinosaurs, frogs and Rudolph pulling it.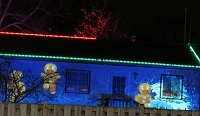 #49. 117 Hickory Circle SW, Vienna

101.7 FM - DARK FOR 2017. Animated light show, best viewed from the backside of the old Magruders shopping center in Vienna. Many light strings hang over the roof and down the house and blue leaping lights line the fence.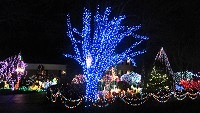 #6. 10203 Lawyers Road, Vienna - On Nov. 26 - Jan. 6. A mass of multicolored and blue lights fills the trees and the bushes encircling a private garden of lit wire-frame animals.


#11. 128 Nutley Street NW, Vienna - Thru Jan 8. Very pretty widespread lights using different colors on different things. Blue lights outlining the house, green on garage.Little scenes set up throughout large fenced yard.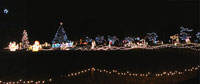 #52. 15615 Bushey Drive, Woodbridge

Speakers - On 12/1 thru 12/25/16. Closed 12/24. Highly recommend checking out this homeowners drive through display in Woodbridge.


Honorable Mentions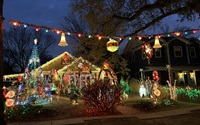 - #M. 409 E Nelson Ave., Alexandria, VA

Speakers
- #S. 2404 Phillips Dr, Alexandria, VA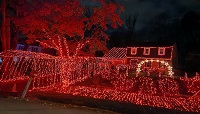 - #FF. 8505 Forest Rd, Annandale, VA

101.5FM

- #R. 4106 Gallows Road, Annandale, VA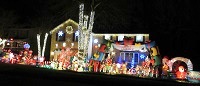 - #MM. 3711 Merrimac Trail, Annandale, VA


- #LL. 1813 S Oakland St, Arlington, VA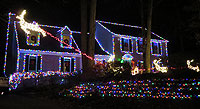 - #A. 5838 Fitzhugh St, Burke, VA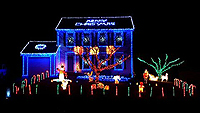 - #Y. 14549B Lock Drive, Centreville, VA

98.1FM & S
- #BB. 13530 Point Pleasant Drive, Chantilly, VA

98.1FM
- #L. 3801 Center Way, Fairfax, VA


- #XX. 7431 Camp Alger Ave, Falls Church, VA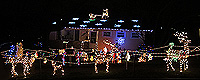 - #JJ. 7725 Fisher Drive, Falls Church, VA

Speakers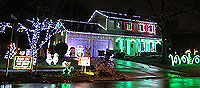 - #EE. 13601 Brass Harness Ct, Herndon, VA

97.7FM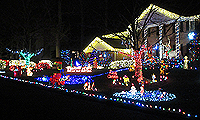 - #NN. 11904 Paradise Lane, Herndon, VA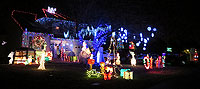 - #C. 13271 Stone Heather Dr, Herndon, VA

Speakers
- #JJ. 1201 Balls Hill RD, McLean, VA

93.5FM
- #RR. 5536 Belfast Place, Springfield, VA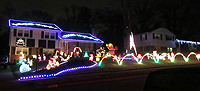 - #WW. 5633 Inverchapel Rd, Springfield, VA

98.1FM

- #G. 1801 Beulah Road, Vienna, VA


- #WW. 922 Cottage St SW, Vienna, VA



- #D. 10000 Garrett St, Vienna, VA



- #K. 118 James Drive SW, Vienna, VA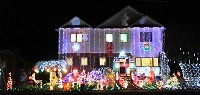 - #V. 317 Patrick SW, Vienna, VA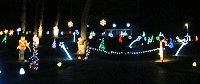 - #YY. 14905 Cardinal Dr, Woodbridge, VA

87.9FM

- #CC. 12407 Harbor Dr , Woodbridge, VA

Speakers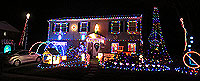 - #DD. 12635 Harbor Dr, Woodbridge, VA

Speakers
Yet to Visit Displays
6153 Shiplett Blvd, Burke, VA

10625 Green Dr. , Lorton, VA

2528 Drexel St., Vienna, VA

8400 Idylwood Rd, Vienna, VA


Tacky Businesses
- 5800 Kingstowne Center Drive, Alexandria, VA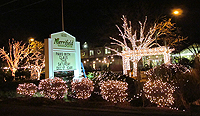 - 12101 Lee Hwy, Fairfax, VA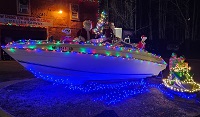 - 12815 Lee Hwy, Fairfax, VA


- 8334 Old Keene Mill Road, Springfield, VA

87.9FM



PLEASE STAY OUT OF THE DISPLAYS/YARDS !!!!